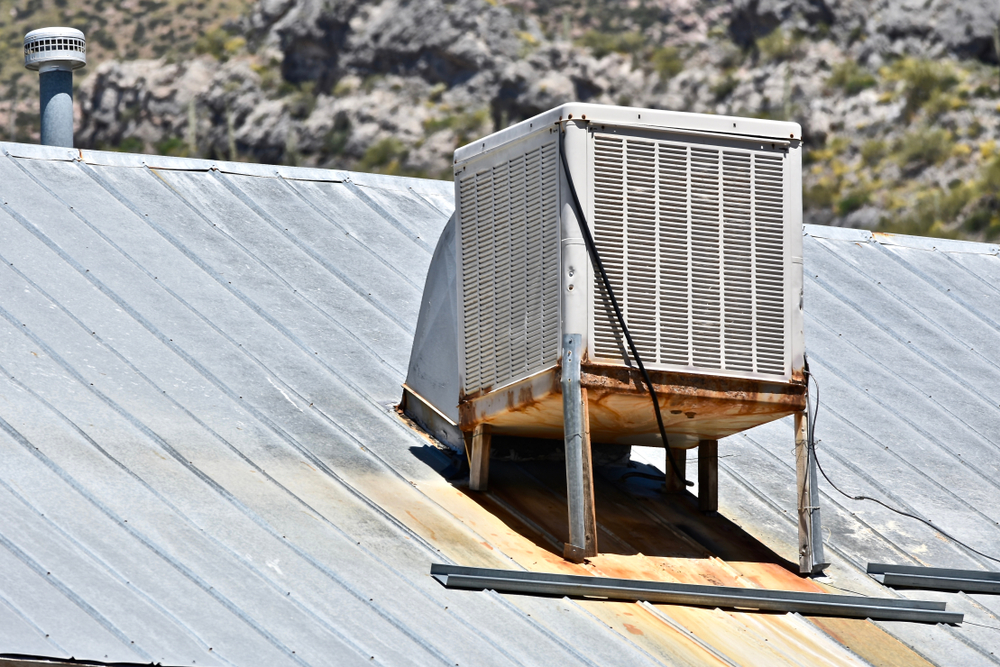 March 21, 2023 9:05 pm
Leave your thoughts
Evaporative coolers, also called swamp coolers, use 75% less energy to cool a space than an air conditioner would use to cool a small space. Thus, these kinds of systems have a lot of advantages. However, you must pay special attention to swamp cooler maintenance to get the best out of such a system. Premier Industries, Inc. can help you properly maintain your evaporative cooler to get an innovative and effective cooling system that meets all your needs.
What's the Point of an Evaporative Cooler?
An evaporative cooler uses water and fans to evaporate moisture. This process allows you to cool your home or commercial space without all the chemicals used in most air conditioning systems.
 Furthermore, while air conditioning systems cycle the same air through your space, evaporative coolers bring in new air and can even purify your air through their filters.
 If that's not enough for you, evaporative coolers are known for saving energy. Thus, these are better for the environment and your budget.
However, one downside to this technology is that it may require just a little more maintenance, but when you take the time to put in that maintenance, you'll be more than happy with the results.
Simple Steps to Evaporative Cooler Maintenance
With just a few regular, manageable steps, you can ensure that your evaporative cooling system works as well as it possibly can and continues to work for years. Taking care of your equipment is the best way to promote efficiency.
Inspect Your System
You'll want to periodically review your system to ensure it's still in good condition. Pay particular attention to the motor belt and other electrical components. Make sure the wiring and switches don't look too worn. You'll also want to generally check areas with lots of wear or cracking.
Clean and Replace Pads
When you don't clean and replace the pads of your evaporative cooler, bacteria can build up and be blown into your air. The effectiveness of your system decreases, which is the last thing you want. Therefore, pay attention to your pads. You'll want to change the aspen-style cooling pads twice in the warm months. If you are using rigid cooling media pads, these do not need to be changed as often and can sometimes last three to five years, depending on the water quality. If you smell funky odors, that's also a good indicator that you need a change.
You can also choose to wash your pads. Cleaning them every week or two can be rewarding. Many people don't like to clean their pads that often, but at the very least, you should be vigilant of your pads, and if they seem dirty or smelly, it's time to take action.
Fill and Clean the Tank
The tank of your evaporative cooler is one of the most important parts. Thus, you'll want to clean this tank because it risks getting contaminated with terrible contaminants like bacteria, germs, and bugs like mosquitoes. White vinegar and water are great tools for cleaning the tank. You'll also want to maintain the water supply for your tank. Some people choose to use treatment tablets to make tank maintenance easier.
Clean the Exterior Surfaces
It may not seem that important, but keeping the exterior surfaces of your evaporative cooler clean when you start to use the cooler is important. Throughout the season, clean the exterior surface every couple of weeks or so. Do not use chemical cleaners. A damp cloth should do the trick.
Get Rid of Calcium Deposits
Calcium deposits can be a huge problem many people aren't sure how to handle. The trick is to use a mix of water and distilled vinegar to clean out the unit's insides to ensure deposits don't form. You should also wash your filter with detergent and water—about once a week will do.
Beginning of Season Care
When the warm weather rolls in, getting your system ready is necessary. You can use a wrench and screwdriver to ensure all connections are tight and secure. You can also lubricate the blower bearings and the cooler motor. However, be careful not to use too much lubricant in the process.
End of the Season Care
When colder months come, you want to ensure you take care of your evaporative cooler before you stop using it for the cold season. You'll want to disconnect your evaporative cooling unit. Make sure that all water is drained from the system. Additionally, clean your filters. Finally, make sure that nothing is wet before you store the part. Bacteria and other issues can become a nightmare if things are completely dry.
Seek Professionals
If you find any issues with your equipment or are concerned about the efficiency of your cooling system, it's a good idea to get professionals involved to guarantee that everything is running smoothly. It's better to pay a professional to fix a problem now than wait for it to become much bigger later.
Professional maintenance services can save you a lot of the time and energy you may not want to spend maintaining your swamp cooler system. Professionals are also better at spotting problems early and completing basic maintenance tasks. Just as you go to the doctor for check-ups, cooling systems check-ups are a great way to have peace of mind and save money in the long run.
Let Us Help
We want to help you with your evaporative cooling needs. We've been in the business for over three decades and have ample experience manufacturing evaporative coolers. We help people who need to cool either residential or commercial spaces, so we've had a wide range of clients with many different needs, and we've been able to customize our equipment to meet each client's unique challenges. If you are in Phoenix, Arizona, or the surrounding areas, we have swamp coolers for you. We'll be glad to share our passion with you and guide you along the process so that you know you're making the right decisions for your cooling system. Don't hesitate to reach out so that you can start cooling better.
Categorised in: Industrial Evaporative Cooler Maintenance
This post was written by admin