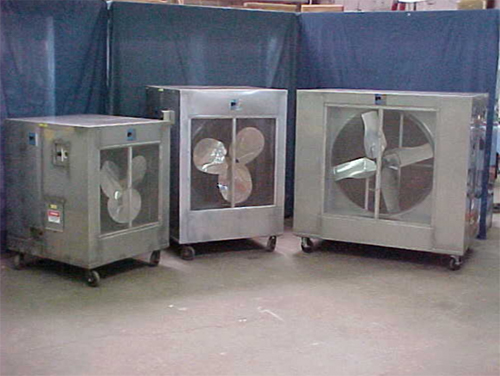 If you're sick and tired of dealing with the dry, stagnant heat of Arizona's climate, it's time to look beyond an oscillating fan or a whole-home AC unit. Instead, set your eyes and your standard for comfort on portable evaporative coolers in Phoenix, AZ! Premier Industries Inc. is pleased to offer these units and their numerous benefits to residents who simply want a better way to escape the heat.
Mobile Cooler Mobile Cool Axial Fan
How Does it Work?
Evaporative cooling units draw hot, dry air through moist pads, to produce cooled air that also introduces moisture back into the space where it's being blown. The result is a wonderful cooling feeling that can also help stave off dry skin, breathing problems and other issues caused specifically by the dry Arizona climate.
Portable Cooler Benefits
The benefits of an evaporative cooler are only outshined by one that's portable! A portable evap cooler in Phoenix, AZ is your gateway to comfort anywhere in your home, condo, apartment or office space. Take a look at why so many people stand by portable units:
Because they're mobile, portable evaporative coolers travel with you from room-to-room, giving you instant relief no matter where you are in the building.
Portable units are entirely self-contained, meaning there's no need to deal with complicated accessories or peripheral products.
They're quiet and non-disruptive, making them great for any environment—from your newborn's nursery to your focused work environment.
Portable evaporative coolers in Phoenix, AZ are easy to use! With just the press of a button, you get cooled air on demand, with adjustments to meet your needs.
Portable units give you great cooling efficiency, which can be more cost effective than other forms of personalized cooling.
All told, there are numerous reasons to invest in a portable evap cooler in Phoenix, AZ, even in addition to those listed above!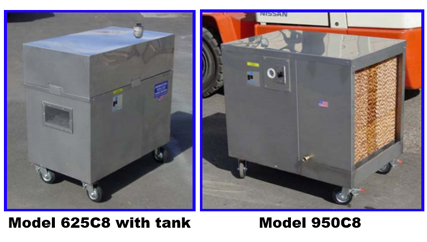 Units we Offer
Premier Industries Inc. proudly provides customers with some of the industry's best, most efficient portable evaporative cooling units. Some of our premier options include:
Model 625C8 with tank
Model 950C8
MobileCool© portable evaporative cooler
We invite you to consult with us today about these options and the many more we provide, to start experiencing portable cooling for yourself. Contact us today at 602-997-8754 for more information.