Evaporative Swamp Coolers in Scottsdale, AZ
Do you find yourself in search of an evaporative swamp cooler for your home or business in Scottsdale, AZ? Thanks to our industrial evaporative cooler, you can keep your home cool on the hottest of days. These cooling units are one of the top choices that a home or business owner can make in the Scottsdale, AZ region. The state's semi-arid climate requires innovative cooling solutions and Premier Industries, Inc is more than happy to help.
There is no substitute for the comfort and stability that these coolers can provide. The dry air of Arizona is addressed, as well as the high temperatures. Your workspace and/or living space has never been cooler or more comfortable.

Industrial Evaporative Coolers in Scottsdale, AZ
Manufacturing plants, sizable industrial structures and outdoor spaces can be all cooled with ease, thanks to our industrial evaporative coolers. The comprehensive and portable cooling that we have to offer can be utilized in a number of different contexts.
In addition to the awesome cooling power that we can provide, these coolers serve as a highly efficient solution from an economic standpoint. They are the best way to tackle the dry climate of Scottsdale, AZ, as they take advantage of the natural water evaporation process. Heat is minimized and the surrounding air is naturally humidified.
Industrial Evaporative Coolers
Industrial workspaces benefit immensely from the presence of industrial evaporative coolers. This is especially true of larger spaces with higher ceilings. Workplace safety and employee comfort are paramount in these scenarios. However, traditional air conditioning methods tend to be costly in these settings. That's why evaporative cooling is the better choice.
Evaporative Air Coolers
With a traditional air conditioning system, the heat and humidity is merely offset. Evaporative air coolers will use water to absorb the heat that lingers in the air during the arid Arizona summers. In order to operate at peak capacity, a drier climate is required. This makes these evaporative air coolers the perfect choice for any home or business in Scottsdale, AZ.
Portable Air Coolers
Large area fans may be somewhat effective in low-humidity environments, but they are no match for portable air coolers. Those who have singular rooms and spaces that require innovative cooling solutions will typically rely on portable air coolers. If larger units cannot be safely and effectively installed, portable air coolers provide a viable alternative.
Auxiliary buildings and other structures that are not directly connected to the main building will benefit the most. Wheel mounts are provided as well so that units can be moved as needed.
Residential Evaporative Swamp Coolers in Scottsdale, AZ
Scottsdale, AZ's summers are as hot as they come. This can make it hard for those who are looking to remain indoors during these harsher months. No one enjoys carrying out their daily tasks when the air is overheated. With residential evaporative coolers, all of these issues will fall by the wayside.
Residential Evaporative Coolers
Living rooms, bedrooms, playrooms, and all sorts of indoor spaces benefit from the presence of residential evaporative coolers. They can also be used in decks, patios, and garages, if needed. This allows Scottsdale, AZ residents to enjoy a far greater level of comfort as they cook, watch TV, and engage in other daily activities.
Evaporative Air Coolers
Hot air and high humidity are no longer an issue when evaporative air coolers are deployed. Maintenance and installation are simple and there is a wide range of added features designed to make life even easier. The water tanks are large enough to keep your pads wet, caster wheels have been added and the manual water filling choice offers more malleable forms of usage.
Portable Air Coolers
Portable air coolers are a helpful investment for any Scottsdale, AZ homeowner. There is no price that can be placed on the ability to move air coolers from room to room. Strategic window placement is a must. Thanks to the durable caster wheels, moving the unit from one room to the next is made easy.
Commercial Evaporative Coolers in Scottsdale, AZ
We have been providing Scottsdale, AZ businesses with top-notch cooling units for nearly 30 years now. Local businesses are not looking to spend big on their energy bills and this is something that we understand instinctively. Your employees and clientele deserve the coolest climate possible.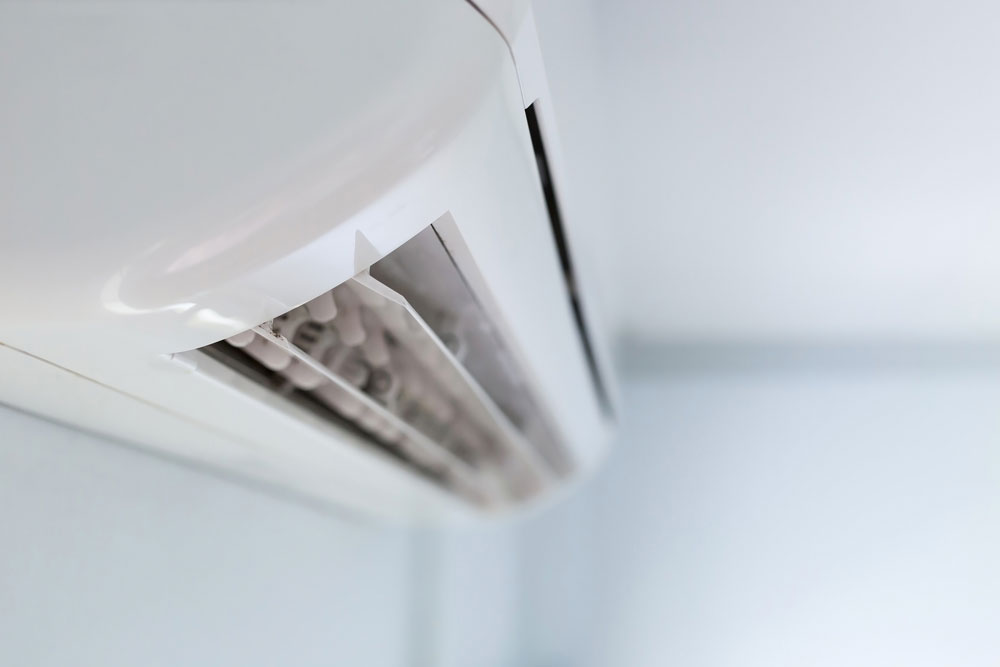 Commercial Evaporative Coolers
Businesses that find themselves in search of a viable alternative to their more expensive air conditioning systems tend to rely on commercial evaporative coolers. The reduction in operational costs, when combined with top-notch ventilation, serves as a great method for commercial temperature management and cooling.
Do You Need an Industrial or Residential Evaporative Cooler in Scottsdale, AZ?
Evaporative cooling will fulfill the needs of any industrial and residential client in the Scottsdale, AZ region. The economic efficiency is unmatched. When you are ready to make a final decision, please be sure to contact Premier Industries, Inc. Our staff members are more than happy to match you with the industrial or residential evaporative cooler that best meets your needs.
Evaporative Cooling FAQs
What is the Best Way to Balance the Blower and Motor?
To balance the blower and the motor, you will need to sway the cooler air velocity. Use the cooling media and prevent the air velocity from having the chance to exceed 550 feet per minute.
How Can the Air Velocity be Controlled?
The air velocity of the evaporative cooler is easily controlled. All you need to do is adjust the motor pulley so that the blower is set to your preferred RPM.
How Do You Adjust the RPM?
The RPM of the blower can easily be adjusted. The motor pulley is simply modified to a wide range of available diameters.
How Do You Adjust the Water Flow?
Take a closer look at the cooler's pipe. From there, take a moment to adjust the clamp or valve. Once this step has been taken, include it in the flow of the water meter.