Get a Quote!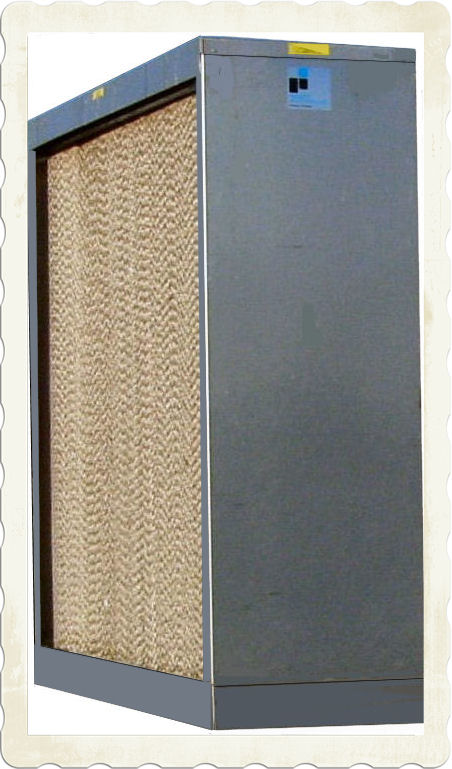 MASTERCOOL REPLACEMENT WET SECTIONS

4500 CFM

MEDIA

6500 CFM

WIDE

HIGH

DEEP

DEPTH

WIDE

HIGH

DEEP

42

27-1/2

16

8

42

32-1/2

16

42

27-1/2

20

12

42

32-1/2

20
SPECIFICATIONS
The wet section shall be constructed from Stainless Steel, grade 304, 20g material. The housing shall consist of a sump, sides and top. A removable top panel shall provide a method of cooling media access and removal and adjustment of the float valve assembly. Standard media removal method is through the top lift off panel All metal in the wet section shall be Stainless Steel, grade 304.
Sump construction shall include TIG (fusion) welded corners and joints. The sump shall be leak proof without the use of fillers, sealants or coatings. A media support channel shall be included. This channel shall extend across the full width of the media. The channel shall provide a minimum of 50% open area for water to flow freely from the media into the sump.
An air bypass inhibitor plate shall be provided from the intake bottom of the media, extending into the water or designed to preclude any untreated air flow under the media.
Standard brass float valve connection shall be provided for make-up water. Overflow and drain shall be through standard stand up pipe provided for this purpose.
Water distribution system shall be pump re-circulating system with mechanical float valve assembly to maintain water level in the sump. Pump horsepower and voltage requirements shall be 1/60 HP, 115/230VAC as required. A bleed-off system with metering valve shall be provided when the pump system is used. Bleed-off rate shall be minimum of 20% of evaporation rate. Standard pump is a stand up type with bottom intake. (An optional "clean pump is available for timed water dumps to increase media useful life).
Water supply to the header pipe shall be by a polyethylene tubing with a balancing clamp provided between the source and header pipe to regulate water flow over the media. Header pipe shall be PVC schedule 40 pipe and will contain drilled and cleaned orifice holes sized to assure proper water flow over the media. Water from the header pipe shall be discharged upwards against a stainless steel deflector to redirect the water from the header pipe back onto the media, evenly across its' full width.
Cooling media shall be PremierCool Rigid Media. This media is a cross- fluted pad of cellulose material impregnated with anti-rot salts and rigidifying saturates and wetting agents with at least 123 square feet of evaporative surface area per cubic foot of media. The transverse flutes shall be 450 and 150 with water flow in the direction of the 450 flute and air flow in the direction of the 150 flute. Media shall have no more than .26″ w.g. air pressure drop at 450 feet per minute face velocity and shall develop a saturation efficiency of not less than 92% for 12″ thick media.
A Birdscreen shall be provided at the intake of the cooler to protect the media from birds and insects and prevent debris from blowing into the sump. An optional winterization panel to slide over the intake is available.