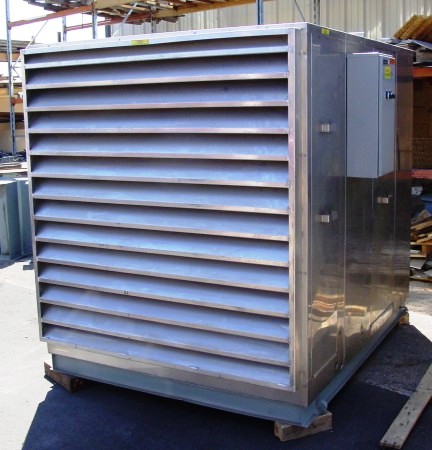 Our flagship product, industrial evaporative coolers are a cost effective, highly efficient solution for any and all industrial spaces. We have been manufacturing and selling this line since 1983, and we have nothing but confidence in the capabilities, longevity and potential of these products. Our industrial evaporative coolers are manufactured especially for extra heavy-duty industrial applications, available in a wide range of configurations and come with additional accessories beyond the design of our basic commercial coolers. If you are interested in purchasing an industrial evaporative cooler in Phoenix, AZ, read on to learn more about their features and functions.
If you are looking for high quality evaporative coolers in Phoenix, AZ, then Premier Industries, Inc. is the company for you. Here is an overview of the different features our line comes with:
Stainless steel construction
High efficiency 12" rigid cooling media
Rugged C-channel frame and vibration isolation system
Standard models rated from 1,000 CFM to 60,000 CFM (actual air delivered)
Larger units available
Custom designed units for virtually any application
Forward curve or backward incline blowers handle high air volume and high static pressure
Available with a wide range of accessories
Side, down and up discharge configurations available
10-year rust-through warranty (a Premier Industries, Inc. exclusive)
If you are looking for an industrial evaporative cooler with special dimensions or capabilities, feel free to get in touch with Premier Industries, Inc. to learn more about our customization options.
Evaporative coolers are a great addition to any industrial space, and Premier Industries, Inc. is the company that is guaranteed to give you a great product. To learn more about our industrial evaporative cooler options, please call us at 602-997-8754, or visit our Contact Us page. We look forward to helping you cool your industrial space more efficiently and effectively.
*Ten year limited warranty against leakage due to rust through, 1 year limited warranty on components. Contact Premier Industries for details