Waco, TX offers a significant amount of beauty with the silos and the nearby farms. With so many attractions in the area, it's no surprise that many people call this area home. To remain comfortable, whether you're a home or a business, though, you need a reliable way to cool the air down. Particularly in the summer, it's been known to get into the three-digits. Evaporative coolers are an affordable and eco-friendly solution. At Premier Industries, Inc., we can show you how these coolers work and how they can be the best investment for your residential or industrial space.
Industrial Evaporative Coolers in Waco, TX
Industrial evaporative coolers are popular in Waco, TX because of the low cost, the easy installation (no ductwork required), and the low maintenance. At Premier Industries, Inc., we manufacture swamp coolers to ensure they offer a comfortable temperature without the worry of the system breaking down on the hottest days of summer.
Industrial Evaporative Coolers
Our industrial evaporative coolers come in a variety of custom sizes. We can provide units that range from 1,000 CFM to 60,000 CFM so that your cooling needs are met.
We also offer custom-designed units to ensure you get the working environment that works for your space. Combine that with a 10-year rust-through warranty and you'll quickly learn why so many industrial customers trust us.
Evaporative Air Coolers
Evaporative air coolers, like the name implies, works based on the process of evaporation. Water released onto the cooling media cools the air and releases moisture into the air. It helps to offer more humidity in dry conditions – such as what you encounter in Waco during the summer months.
Portable Air Coolers
We offer portable air coolers, many of which are on wheels. It allows you to take the air cooler wherever you go. It can be used when you go to events or when you want to cool one side of the building versus another based on where your employees are working.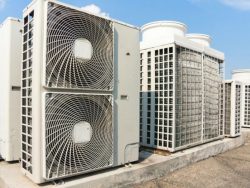 Residential Evaporative Coolers in Waco, TX
Residential evaporative coolers in Waco can be an easy solution when you want an affordable way to cool your home. These coolers can be installed in mobile homes, single-family homes, and even RVs. Plus, you can winterize the units in minutes so that they are not in use during the cooler months.
Residential Evaporative Coolers
Our residential evaporative coolers have several features to offer comfort and long-lasting performance. You'll have a thermostat to help you with water and energy savings. Plus, you can choose various ways to install the cooler and the kind of power you need based on the size space you want to cool.
Evaporative Air Coolers
Our evaporative coolers are built with minimal moving parts to make them easier to maintain. You'll find that the stainless-steel grade housing will resist corrosion. Plus, you'll enjoy high static pressure capabilities to maximize the airflow.
Portable Air Coolers
Portable air coolers are popular because they are lightweight and easy to move. You can bring them on your travels or take them with you when you move. Since they're not installed with ductwork, they're easy to move – and therefore a worthwhile investment.
Commercial Evaporative Coolers in Waco, TX
Commercial evaporative coolers can be used in various business environments in Waco. You may want them in an office building or take advantage of the misting properties for a nursery, produce stand, or outdoor restaurant.
Commercial Evaporative Coolers
Our commercial evaporative coolers are fully customizable. We can show you how they can be mounted on walls, the roof, or even on windows. With so many configurations, you can choose the unit that will work best for your space. Plus, it will be a less expensive option in comparison to a refrigerant-based system.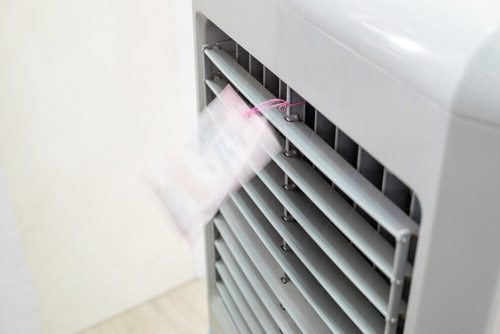 Evaporative Cooling FAQs
If you have questions about how evaporative coolers work, we have answers. If you don't see the answer to your question below, contact us to talk to one of our cooling professionals.
Do You Need an Industrial or Residential Evaporative Cooler in Waco, TX?
Evaporative coolers, also known as swamp coolers, are capable of providing you with cooler temperatures and the comfort of added humidity in the air. When you're in Waco, TX, you deserve to enjoy a comfortable atmosphere. Call us at Premier Industries, Inc. to learn about the standard and customizable solutions that we can offer.
What is the best way to balance the blower and motor?
It's important to achieve a balance between the blow and motor. This is done by controlling the air velocity. You will want to keep the airflow velocity below 600 feet per minute so that you don't have raw moisture being pulled off the media and into the airflow.
How can the air velocity be controlled?
Air velocity is measured using a velometer. When you want to control the velocity, you will need to adjust either the speed of the blower or the opening of the blower.
How do you adjust the RPM?
Adjusting the RPM is done using a motor pulley. Within seconds, you can control the ratio of the RPM of the motor to the RPM of the blower.
How do you adjust the water flow?
Adjusting the water flow over your cooling media is critical. A valve or clamp is present in the riser pipe so you can make adjustments on an as-needed basis.