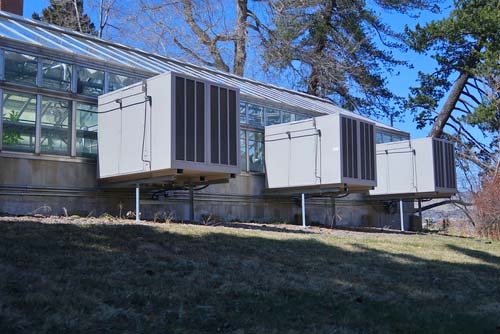 Have you ever traveled to a region with high humidity? You may have found your hair curled, your skin was softer, but you seemed sweaty than you usually are. This is because your body absorbs moisture from the air, causing you to sweat and cool down via a process known as evaporative cooling. When it comes to Evaporative Swamp Coolers, the same concept applies.
In hot, dry places like Texas, Nevada, and Utah, evaporative swamp coolers are common. There is less moisture in the air in these regions, thus evaporative cooling works by adding water to the environment. Don't remain uncomfortable throughout your day because of the heat; call Premier Industries Inc in San Antonio, TX for a state-of-the-art evaporative swamp cooler.
Get a Quote!
Industrial Evaporative Coolers in San Antonio, TX
Our selection of Industrial Evaporative Coolers provides much-needed cooling relief inside manufacturing and industrial plants. Evaporative coolers are a great addition to your plant, and Premier Industries, Inc is the company that will guarantee to give you a great product.
Our flagship products which include industrial evaporative coolers are highly efficient and cost-effective for all industrial spaces. We have complete faith in the capabilities, potential, and long-term viability of our solutions.
Industrial Evaporative Coolers
Industrial Evaporative coolers are crucial in cooling in large indoor areas, warehouses, hangers, outdoor spaces, and manufacturing plants. Industrial evaporative coolers use the natural process of water evaporation to reduce heat and naturally humidify the air. In addition, our products come fully assembled, so they are ready to work right out of the box.
We also offer industrial evaporative cooling systems with exceptional capabilities and dimensions; feel free to get in touch with Premier Industries, Inc to learn more about our customization options.
With an evaporative air cooler, you can keep your home, workplace, or warehouse cool all year. These devices utilize vapor to release cold air, making them a cost-effective method to chill a space without turning on the air conditioner. Choose from a variety of budget-friendly choices, including remote-controlled and Wi-Fi-connected coolers.
If you are looking for high-quality evaporative coolers for your industrial plant, then Premier Industries, Inc is the company for you.
Industrial Portable Air Coolers
A portable Air cooler will give you the ultimate flexibility, with built-in wheels that make it easy to move from room to room. Investing in a mobile cooling unit will be a good idea if you drive from one room to another. You can carry it outdoors as well.
Portable coolers are more energy-efficient and cheaper opposed to the window-type air conditioning unit. It is a piece of standalone equipment as a mobile cooling device, and you will incur zero installation costs.
Contact us today about these options and many more we provide to start experiencing portable cooling for yourself and your loved ones.
Residential Evaporative Coolers in San Antonio, TX
When hot, dry conditions make your residence unbearable in the summer, your day-to-day activities can be challenging to perform when you are overheated. Using a residential evaporative cooler will certainly make your experience better.
Premier Industries Inc is proud to offer a line of residential coolers so that your home can benefit from the quality and efficiency of our products. If you live around the San Antonio, TX area, come to our physical store and let our professionals help you out.
Residential Evaporative Coolers
Keep your home comfy all year long with a residential evaporative cooler. These units work by using vapor to expel cool air, providing room temperatures without central air conditioning. We will make outdoor and indoor activities a great way to spend time with your friends and family. Everybody loves a backyard barbeque when the weather is right. A Residential evaporative cooler from Premier Industries Inc will make you enjoy your patio even on the hottest days in the summer.
If you are looking for evaporative air coolers, we are the best choice in the market that you have been looking for. We have been in the cooling business ever since 1983, and because of the strength of our products, we are now a household name in the South and have distributors in most states and around the world.
Residential Portable Air Coolers
Our portable air coolers in your residential spaces can be moved anywhere you may need a cooling comfort. If you're taking care of a kid or a senior, it is the perfect cooling system to have. If you're one of those people who have a beautiful garden and patio but never get to enjoy it, our portable coolers are just what you are looking for to turn your patio into your comfort zone.
Commercial Evaporative Coolers in San Antonio, TX
If you have a commercial space in San Antonio, TX that requires a cooling system, we are the experts in town for commercial evaporative coolers. Our specialist range is combined with extensive expertise in the industry to ensure we provide you with the most appropriate solution for all your cooling projects.
Commercial evaporative coolers are designed for each individual application by Premier Industries, Inc experts to create the most effective and energy-efficient solution. If required, our Regional Research and Development departments can work with a design consultant and our manufacturer's design team to deliver your custom system design.
Commercial Evaporative Cooler
Commercial evaporative coolers, also known as swamp coolers, provide powerful cooling in large indoor areas, outdoor spaces, and manufacturing plants. The natural process of water evaporation is the concept used by an evaporative cooler to decrease heat and naturally humidify the air. These heavy-duty coolers operate by forcing hot, stuffy air through a wet evaporative cooling pad, which absorbs heat and converts it to a cool breeze.
Installing and operating an evaporative unit is considerably less costly than a full-blown refrigerant-based system. Contact us at Premier Industries, Inc. for additional information and a free quotation today.
Do You Need an Industrial or Residential Evaporative Cooler in San Antonio, TX?
There are many advantages of having this kind of system installed, including the fact that you can cool off more than one room or the entire building. If you would like to know more about the advantages of evaporative cooling systems, please contact us at Premier Industries, Inc and we'll give you exactly what fits your needs.
If you would like to inquire about industrial or residential evaporative cooling systems, please call 602-997-8754, or visit our Contact Us Page.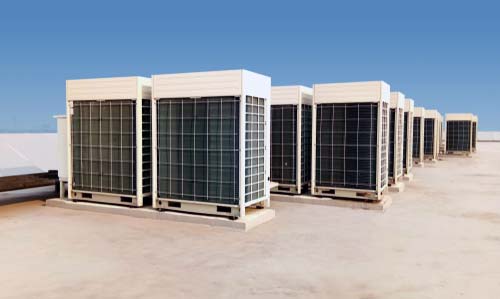 Evaporative Cooling FAQs
Below are some common questions we get from our customers:
What is the best way to balance the blower and motor?
The most straightforward answer is to control the air velocity through the cooling media not to exceed 550 feet per minute. Natural moisture may be drawn off the back of the media and entrained in the airflow into the ductwork and or into the structure being cooled when the air velocity reaches 600 feet per minute.
How can the air velocity be controlled?
When measuring air velocity, a velometer is used. The adjustable motor pulley is adjusted to alter the RPM of the blower to get the necessary air velocity. This method limits the air volume to the static pressure restrictions of the air delivery system.
How do you adjust the RPM?
The motor pulley is adjustable to permit changing the RPM of the Motor to the RPM of the Blower. If the motor pulley is three diameters and the blower pulley is nine diameters, you have a 3:1 ratio. This means the motor pulley will turn three times that of the blower. Making the motor pulley smaller would slow down the blower, and conversely, causing the motor pulley larger would speed up the blower RPM.
How do you adjust the water flow?
The water adjustment clamp or valve may be used to raise or reduce the water flow. Turn the water down gently until the droplet spillover stops if the evaporative cooler is entraining—or spewing droplets out of the front fan side.
If you have any questions regarding evaporative swamp coolers in San Antonio, Texas; please do not hesitate to contact us online or (602)997-8754.