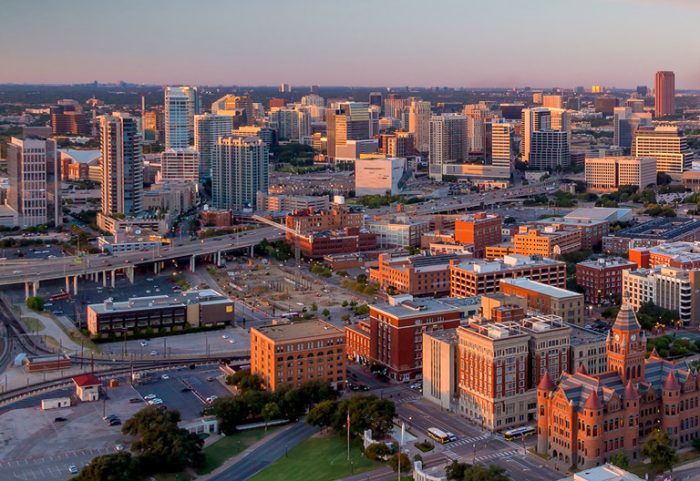 Cooling your home or business should be a top priority in Dallas, TX. There are a number of options, though you'll find that evaporative coolers are capable of offering you an affordable, energy-efficient option. Commonly known as swamp coolers, these units can be up and running quickly since there's no need for ductwork.
At Premier Industries, Inc., we've been manufacturing units since 1983. With our expertise, we can explain why these can be advantageous to your home or business in Dallas.
Get a Quote!
Industrial Evaporative Coolers in Dallas, TX
We've been manufacturing industrial evaporative coolers for decades. It's our flagship product, and we have found many ways to customize it. These coolers are highly efficient and can help to cool even the largest of spaces.
Industrial Evaporative Coolers
Evaporative coolers work by chilling the air through the process of evaporation. Water passes over a cooling media, which lowers the temperature in the air and adds humidity. This is a highly desirable solution when you're in a dry climate such as Dallas.
Evaporative Air Coolers
When you're working in an industrial space, evaporative coolers offer a fast and effective installation option. Plus, you're not going to be pulling air from the outside. Particularly when you can't deal with dust, dirt, and insects being pulled in as potential contaminants, an evaporative cooler works differently.
Portable Air Coolers
We offer portable air coolers in Dallas, too. If you move spaces a lot, you can choose a cooler on wheels. This way, you can bring your cooling system wherever you go. They offer a simple solution that is affordable and ensures that your employees always have a comfortable environment to work in.
Residential Evaporative Coolers in Dallas TX
Residential evaporative coolers have been successfully installed in many types of homes. From single-family homes to RVs to tiny homes, the people of Dallas enjoy swamp coolers because of being able to get rid of the dry air that commonly dries out the skin and leads to eye irritation.
Residential Evaporative Coolers
Residential evaporative coolers offer a wide array of benefits. The systems are environmentally friendly and use considerably less energy than HVAC and other traditional systems. You'll find that there's improved air circulation with these units, too. The fresh air will also reduce contamination. Plus, these systems are considerably easier to maintain, ensuring that you get good value for your money.
Evaporative Air Coolers
Evaporative air coolers for the home lower the temperature by having water pass over the cooling media. When the water evaporates, it lowers the temperature. During the hot summers of Dallas, you can expect a 20 to 30-degree drop in the temperature from outside.
Portable Air Coolers
Portable air coolers allow you to take your cooling unit with you wherever you go. This allows you to hold onto your investment if you move. You can also take your system if you go from summer home to winter home or you're vacationing in an RV.
Commercial Evaporative Coolers in Dallas, TX
Commercial evaporative coolers in Dallas can be used to provide a more comfortable environment for employees and customers alike. You'll be able to add moisture to the air and cool the air temperature by up to 20 or 30 degrees. Plus, there are various sizes of units to accommodate your space.
Commercial Evaporative Coolers
Our evaporative coolers are an economical solution for various industries. They're not only built to last but they're also easy to maintain. They offer an alternative to refrigerant-based systems. Plus, we'll show you the various configurations and customizations available to ensure you have the right unit for your business.
Do you need an industrial or residential evaporative cooler in Dallas, TX?
Evaporative coolers in Dallas, TX can provide you with a wide array of benefits. Contact us at Premier Industries today so that we can discuss the possibilities for your home or business.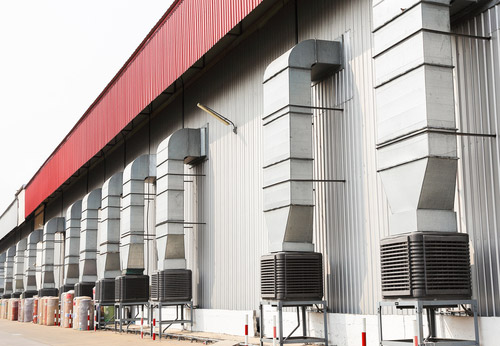 Evaporative Cooling FAQs
Let us answer some of the most frequently asked questions about evaporative cooling.
What Is the Best Way to Balance the Blower and Motor?
Balancing the blower and the motor will help you to enhance the overall performance of the cooler. You'll want to control the air velocity so that it doesn't exceed 550 feet per minute.
How Can the Air Velocity be Controlled?
Air velocity is controlled by adjusting the speed of the blower (measured in RPM) as well as the opening size of the blower.
How Do You Adjust the RPM?
The RPM is easily adjusted by using a motor pulley to change the ratio of the motor RPM to the blower RPM. The motor pulley can be adjusted to various diameters.
How do You Adjust the Water Flow?
You'll want to adjust the flow of the water over the cooling media periodically based on humidity levels. There will be either a valve or clamp to control the flow.