Tired of the hot and humid summer days that Mesa, AZ has to offer? Looking to cool your home or business in a more efficient manner? Evaporative swamp coolers are a great option for any Mesa, AZ home or business owner. They are the most suitable option for the climate.
The evaporative swamp cooler offers unrivaled peace of mind and relaxation. These devices are designed to remove the high temperatures from a wide range of homes and businesses. The concerns that are closely associated with dry air are removed, creating a far more peaceful environment to live and work in.
Get a Quote!
Industrial Evaporative Coolers in Mesa, AZ
Industrial evaporative coolers can also be referred to as industrial swamp coolers but no matter the name, these coolers serve a key purpose wherever they are used. These are used to cool a variety of work-related spaces, including manufacturing plants and indoor industrial structures.
The coolers offer comprehensive assistance and there are even portable cooling options available. Natural water evaporation is used as a means of minimizing heat exposure, while naturally humidifying the air.
Industrial Evaporative Coolers
If you have an industrial workspace that is in need of cooling, these coolers are the best choice that can be made. Large spaces with high ceilings benefit immensely from the usage of industrial evaporative coolers. Equipment safety and employee safety are fully maximized in these instances. This also allows employers to steer clear of the high costs that are associated with conventional cooling methods.
Evaporative Air Coolers
A conventional cooling system does not actually remove the heat, it simply works to offset it. With evaporative air coolers, the water is used as a means of heat absorption, providing a more natural cooling method. Optimal functionality takes place in drier environments, such as the climate that Mesa, AZ has to offer.
Portable Air Coolers
Yes, a larger area fan may provide momentary relief, but portable air coolers are a more lasting solution. If you are in a low-humidity environment and have a larger room that needs to be cooled, portable air coolers are a great option. Any auxiliary area that is not connected to your primary facility is a prime candidate for a portable air cooler. Wheel mounts make the process of moving these coolers from point A to point B incredibly simple as well.
Residential Evaporative Swamp Coolers in Mesa, AZ
When the hot summers of Mesa, AZ arrive, it can be hard to remain in the house. When temperatures rise and living conditions become unbearable, daily activities become much harder to complete. Thanks to residential evaporative swamp coolers, there is no reason for Mesa, AZ residents to start panicking.
Residential Evaporative Coolers
These coolers are a wise investment for anyone who is looking to cool their bedroom, sitting room, playroom, or any other indoor space. If you have a deck, patio or garage that is in need of cooling, residential evaporative coolers remain a viable choice. Your typical daily activities do not have to become unbearable. Cooking, watching movies and spending time with family are all made easy.
Evaporative Air Coolers
When high humidity and hot summer temperatures arrive, evaporative air coolers are a great choice. There are no worries when it comes to installation and maintenance, as these coolers can be handled without professional assistance. The water tanks are sizable so that you are able to keep the pads wet, and caster wheels as needed. These coolers can be used in a number of ways as well.
Portable Air Coolers
Why are these air coolers such a smart investment for Mesa, AZ residents? For starters, it is great to have the ability to move your cooler from one room to the next. Secondly, it is very easy to position these coolers by a window, so you maximize the flow of cool air. Thanks to the durable caster wheels, you can move these coolers with relative ease.
Commercial Evaporative Coolers in Gilbert, AZ
For the past 29 years, we have been providing top-notch cooling solutions to a wide range of Mesa, AZ businesses. As local businesses look to reduce their reliance on overly expensive conventional cooling solutions, we are right there to provide them with viable alternatives. Clientele and employees alike deserve a cool, peaceful environment to spend time in each day.
Commercial Evaporative Coolers
The ventilation and relief that these coolers offer make them a much better choice than conventional cooling solutions. Any business that is looking to lower its overall operational costs would do well to implement commercial evaporative coolers as soon as possible.
Do You Need an Industrial or Residential Evaporative Cooler in Mesa, AZ?
The dry Mesa, AZ climate requires a specialized solution. Cooling your home or business has never been simpler, though. If you have any further questions, please be sure to contact the good folks at Premier Industries Inc. Our staff members are always on hand and ready to answer all of your queries in a timely manner.
---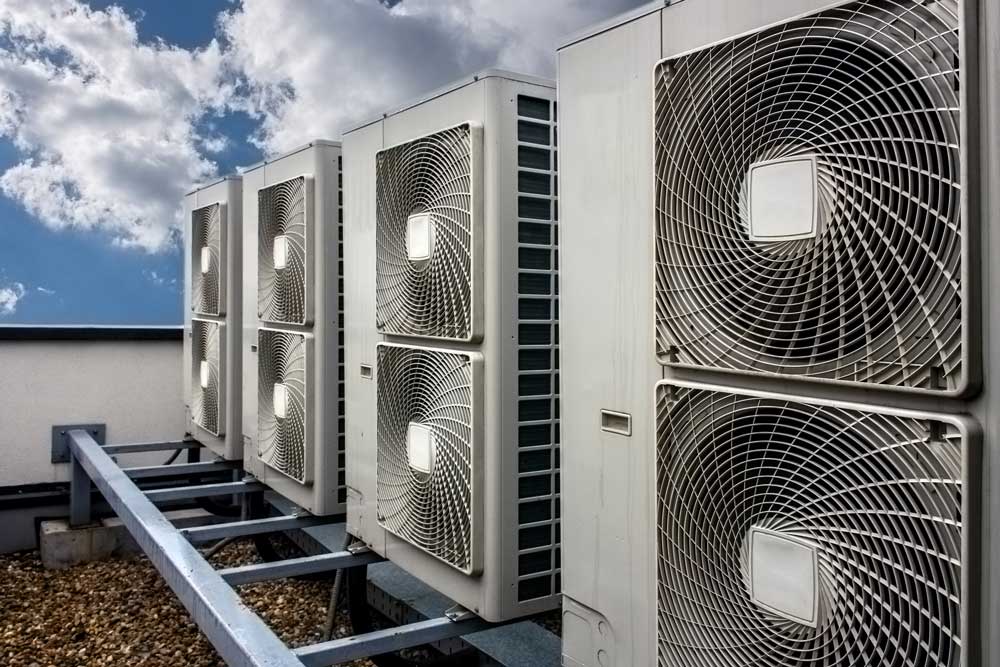 Evaporative Cooling FAQs
What is the Best Way to Balance the Blower and Motor?
It is very important to know as much as possible about swaying the air velocity on an evaporative cooler. The cooling media is used in these instances. For best results, do not allow the air velocity to exceed over 550 feet per minute.
How Can the Air Velocity be Controlled?
Controlling the air velocity on your evaporative cooler is as simple as using the motor pulley. Be sure to adjust it, so that you are able to change the RPM on the blower to a comfortable level of velocity.
How Do You Adjust the RPM?
The RPM of these blowers can be adjusted very easily. All you need to do is adjust the motor pulley so that there is a wide range of diameters.
How Do You Adjust the Water Flow?
There is a valve or clamp that is located in the cooler's pipe. Adjust it and include it in the meter water flow.