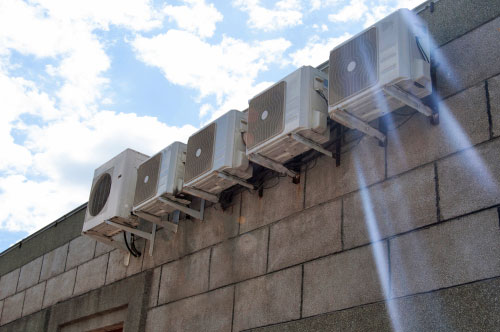 Temperatures have been known to hit three digits during the hottest months of the year in Abilene, TX. Combine that with a lack of humidity and it can get uncomfortably hot. Evaporative coolers, also known as swamp coolers, are an effective way of cooling off the inside temperatures. Whether you need to cool your home, business, or warehouse, Premier Industries, Inc. offers customizable solutions to work best for you.
Industrial Evaporative Coolers in Abilene, TX
Industrial evaporative coolers in Abilene can offer you the cooler temperatures that you demand. Regardless of the size of space you need to cool, we have heavy-duty solutions for you. Our coolers can be fully customized and are designed to run cost-efficiently.
Evaporative Air Coolers
Evaporative air coolers work without the need to install ducts. The fast setup allows you to start cooling down temperatures by 10 to 20 degrees quickly. More importantly, the system works because it uses the process of evaporation.
When you're dealing with an arid environment like Abilene, swamp coolers are popular because they don't take as much energy to keep running.
Your workers will appreciate you when you begin offering a more comfortable environment to work in, especially as the temperatures rise outside.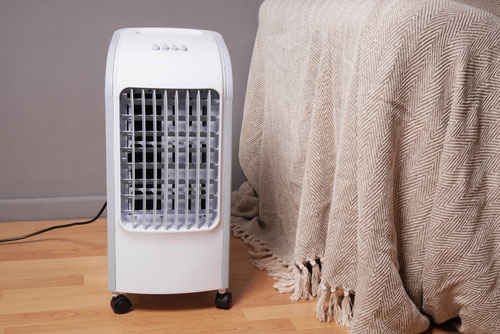 Portable Air Coolers
Portable air coolers allow you to roll the units into the desired space. You can bring these on the move when you set up in various warehouses and venues on a regular basis. Additionally, these can be moved into the areas where you have the majority of people working.
The smaller units can offer a simple solution when you need to cool the space but don't want to invest in a comprehensive HVAC system.
Residential Evaporative Coolers in Abilene, TX
Residential evaporative coolers in Abilene, TX make sense when you need a short-term or long-term solution to cool your living space. These work in single-family homes, apartments, and even mobile homes and RVs.
Residential Evaporative Coolers
Our residential swamp coolers offer a number of functions to help you get the level of performance that you demand. We offer a thermostat so you can save energy and water while controlling the temperature with ease. Additionally, depending on the size of the space you need to cool, we offer models with various motors for you to choose from.
Evaporative Air Coolers
With an evaporative air cooler in place, you can take advantage of easy installation and maintenance. The initial capital investment is low, allowing you to focus on cooling your space without spending a fortune.
Other benefits include:
Energy efficiency
Improved air quality
Greater comfort
Eco-friendly solution
Improved circulation of air
Portable Air Coolers
Take advantage of portable air coolers that don't have to be physically installed into a space. Many models are on wheels, allowing you to roll them from room to room.
Commercial Evaporative Coolers in Abilene, TX
Offices, modular buildings, and more need to stay cool during the hottest months in Abilene. Our commercial evaporative coolers can be configured in a way that works for your space. They can be installed in windows, mounted to the roofs, and more.
Commercial Evaporative Coolers
There's no need to invest in a refrigerant-based system, especially when you are looking for a temporary cooling method. Evaporative coolers can cool off rooms or entire buildings. Either way, we can offer cost-effective solutions that will work best for the needs of your commercial space.
Do You Need an Industrial or Residential Evaporative Cooler in Abilene, TX?
Cooling your home or business shouldn't be a struggle nor should it be a high-cost endeavor. Contact us at Premier Industries, Inc. today to learn how you can get an industrial or residential evaporative cooler in Abilene to meet your needs.
Evaporative Cooling FAQs
It's understandable if you have questions about evaporative coolers in Abilene. At Premier Industries, our goal is to answer them all. If we haven't addressed the questions or concerns that you have, contact us directly for more information.
What is the Best Way to Balance the Blower and Motor?
You want to make sure that the air velocity does not exceed 550 feet per minute. As such, you'll want to control the air velocity so that you don't encounter raw moisture being pulled back into the media.
How Can the Air Velocity Be Controlled?
A velocity meter measures the air velocity of your unit. You will have an adjustable motor pulley that allows you to adjust the blower – which determines the volume of airflow.
How Do You Adjust the RPM?
Most units will have an adjustable motor pulley so that you can quickly change the ratio of the motor's RPM to the blower's RPM.
How Do You Adjust the Water Flow?
There may be instances where you need to adjust the water flow, particularly based on humidity levels. A valve or clamp can be found in the riser pipe so that you can make the needed adjustments.