It's important to be cool and comfortable – and when you're dealing with hot, dry conditions in Midland, TX, it can be a challenge. Evaporative coolers are uniquely designed to cool the environment and add humidity to the air at the same time. At Premier Industries, Inc., we manufacture and install the quality systems that you can depend on.
Get a Quote!
Industrial Evaporative Coolers in Midland, TX
Industrial evaporative coolers in Midland can offer you the way to cool massive amounts of space quickly. Whether you're trying to cool workspaces, garages, or something else, there are various systems – and custom builds can ensure that you get the specifics that you demand.
Industrial Evaporative Coolers
At Premier Industries, Inc., we don't just sell evaporative coolers – we build them. It ensures that we provide a cost-effective and highly efficient solution that is capable of withstanding the extra heavy-duty applications.
Evaporative Air Coolers
Evaporative coolers have been given the name "swamp cooler" because they cool the air through the process of evaporation. These are affordable to operate and don't require expensive ductwork like traditional HVAC systems. An added benefit is that they conserve energy. They're easy to maintain and increase the humidity to help you gain a more comfortable working environment.
Portable Air Coolers
Portable air coolers are unique in that you can bring them wherever you go. If you're on the road, a comfortable environment is critical everywhere – from stage setups to trade shows. At Premier, we offer portable units so that they can travel with you around Midland and beyond.
Residential Swamp Evaporative Coolers in Midland, TX
Many homeowners throughout Midland, TX have found that residential evaporative coolers are highly beneficial. They're affordable, low-maintenance, and easy to install. These can be placed in homes, mobile homes, and even tiny homes.
Residential Evaporative Coolers
Evaporative cooling in Midland, TX provides you with the comfort you desire by adding more humidity into the air. It can reduce the amount that you perspire. And, with the unique features of our system, you can winterize a unit during the colder months.
Evaporative Air Coolers
Our evaporative air coolers offer a lot of features to help you control the flow of air. Plus, you'll find that you can perform most (if not all) of the maintenance on your own. The systems are energy efficient and there's a low initial capital investment in comparison to a standard AC unit.
Portable Air Coolers
Portable air coolers are a simple way for you to stay cool as you move from room to room. Many of our units are on wheels, allowing you to move the system while delivering cold air quickly and efficiently.
Commercial Evaporative Coolers in Midland, TX
Commercial evaporative coolers are an economic way to provide a cool environment to your workers inside of a business. No one wants to be hot on the job, and this is an affordable way to cool everyone down in Midland, TX.
Commercial Evaporative Coolers
At Premier, we offer commercial evaporative coolers in Midland that are flexible enough to meet your needs:
Stainless steel construction
Various sized blowers
Various motor types
10-year rust-through warranty
You can cool spaces off quickly – and portable units can be ideal when you have smaller spaces that need help.
Do You Need an Industrial or Residential Evaporative Cooler in Midland, TX?
Searching for a cooler can be daunting. Let our team at Premier Industry Inc. help you find the information you need.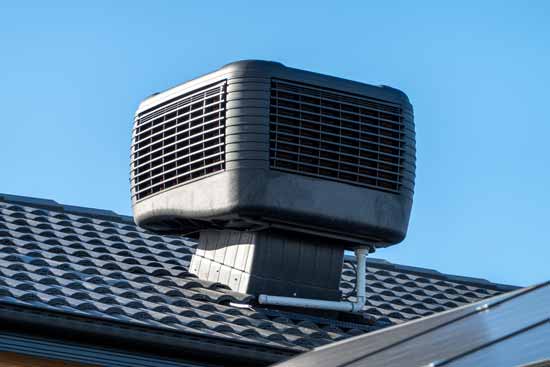 Evaporative Cooling FAQs
If you've never worked with evaporative coolers before, you may have some questions. We're here to answer all of them – and if you don't find your question, contact us directly.
What is the Best Way to Balance the blower and motor?
Balancing the blower and motor is done by controlling the air velocity. The goal is to ensure that you don't exceed an airflow velocity of 550 feet per minute. Once you're at 600, you're likely to pull moisture off of the media.
How Can the Air Velocity be Controlled?
The air velocity is controlled by the speed of the blower. You can simply adjust the size of the opening on the blower itself.
How Do You Adjust the RPM?
The RPM of the blower is adjusted using a motor pulley. This allows you to adjust the ratio to fit the airflow that you want to achieve.
How do You Adjust the Water Flow?
The water flow is an important part of establishing evaporation. The water flow ensures that the media remains sufficiently saturated and is controlled by either a clamp or valve found in the riser pipe.