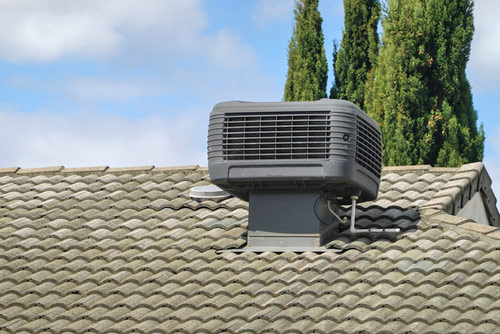 Wichita Falls, TX is home to several attractions as well as a military installation. The area is growing significantly, which is why you might find yourself in the area. If you've been in this area of Texas for a while, you know that it can be hot and dry. To cool your living or working space down, evaporative coolers can be a highly effective solution. Commonly referred to as swamp coolers, these units will cool the air down and add moisture into the air.
At Premier Industries, Inc., we'll show you how these coolers work and how they can be the best solution for your industrial, residential, or commercial space.
Industrial Evaporative Coolers in Wichita Falls, TX
Industrial evaporative coolers have proven to be very effective in Wichita Falls. In many instances, you can cool the temperature down by 30 degrees. At Premier Industries, Inc., we don't just sell these coolers – we manufacture them.
It ensures that you get the features and functions that will truly make a difference – and they can be customized to meet the individual needs of your industry.
Industrial Evaporative Coolers
Our industrial evaporative coolers can chill the air using the process of evaporation. Water moves across a cooling media to provide cooler, more humid air. These coolers are beneficial because they don't require the installation of ductwork. It allows you to have a faster (and more affordable) installation.
Evaporative Air Coolers
Evaporative air coolers offer a variety of cooling options whether you are cooling a warehouse, an office building, or an airport hangar. Our units are constructed of stainless steel and range from 1,000 CFM to 60,000 CFM so that there's a solution for your property.
Perhaps more importantly, we offer an industry-exclusive 10-year rust-through warranty to ensure you get a strong investment.
Portable Air Coolers
Portable air coolers can be a smart solution for you in Wichita because you can move them to where you're going to be. These don't require any installation – and they can be moved from one area to the next with ease.
Residential Evaporative Coolers in Wichita Falls, TX
Residential evaporative coolers in Wichita Falls, TX have been commonly used in mobile homes, RVs, and single-family homes. When you find that you need a fast (and perhaps temporary) way to cool your living space, we have the solutions.
Residential Evaporative Coolers
Our residential evaporative coolers provide a quick way to cool your home with enhanced performance features. You'll have an option of a thermostat so that you can maximize water and energy savings. Plus, there are plenty of options to help you determine where it should be installed and how powerful it needs to be.
Evaporative Air Coolers
Evaporative air coolers will be able to cool your home quickly. These can be installed by windows and in doorways. Additionally, you'll love that they are easy to winterize as the temperatures start to cool in Texas.
Portable Air Coolers
When you're on the go, portable air coolers can go with you. They can be brought to your vacation home or with you when you rent an RV for a summer road trip. Additionally, portable air coolers can be moved into storage during the cooler months.
Commercial Evaporative Coolers in Wichita Falls, TX
Commercial evaporative coolers are quite popular in office buildings, clinics, and more. When you want to ensure your employees are productive, a swamp cooler can be the best way to offer a comfortable environment to work in.
Commercial Evaporative Coolers
With our help, we can help you find a commercial evaporative cooler that works for your space without harming indoor air quality. Various misting configurations can be set, too – ideal for greenhouses, veterinary clinics, and even outdoor seating areas.
Evaporative Cooling FAQs
You likely have questions about how evaporative coolers can work in Wichita Falls. We've addressed some of the most common questions below. If you have additional ones, don't hesitate to reach out.
Do You Need an Industrial or Residential Evaporative Cooler in Wichita Falls, TX?
Staying cool and comfortable is important, especially as the heat swoons to three-digit numbers in Wichita Falls, TX. At Premier Industries, Inc., we customize the evaporative coolers to meet your needs. Contact us today to learn about the benefits of a swamp cooler in your residential, commercial, or industrial setting.
What is the best way to balance the blower and motor?
The blower and motor should be best balanced by controlling the air velocity. You want to make sure that the velocity doesn't exceed 550 feet per minute. The moment it exceeds 600, you will have to run the risk of raw moisture being pulled off of the media.
How can the air velocity be controlled?
Controlling the air velocity is done by measuring with a velometer. You can control the speed of the blower as well as the size of the blower's opening.
How do you adjust the RPM?
The blower's RPM is adjusted easily with a motor pulley. From there, you can change the ratio of the motor's RPM to the blower's RPM.
How do you adjust the water flow?
Adjusting the water flow on the cooling media will impact the moisture in the air. You'll have access to either a valve or a clamp on the water line's rise pipe.