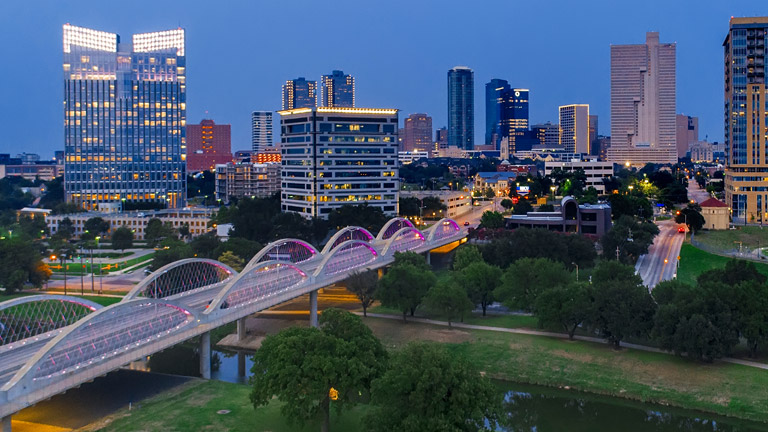 Cooling off a residential or commercial space in Fort Worth, TX is critical. The temperature tends to be dry and hot, especially in the heart of the summer months. Swamp coolers are eco-friendly, affordable, and easy to maintain, ensuring you get a cooling solution that works with your space.
Get a Quote!
Industrial Evaporative Coolers in Fort Worth, TX
Industrial evaporative coolers are our flagship product at Premier Industries, Inc. We have been manufacturing and selling a variety of highly efficient solutions since 1983. Our coolers are capable of being a cost-effective solution for cooling spaces of all sizes – including warehouses and large open floorplans.
Industrial Evaporative Coolers
Our industrial evaporative coolers are capable of chilling the air by using less energy than traditional HVAC systems. Particularly in Fort Worth where the climate is dry, this offers a good solution because moisture is injected into the air at the same time.
Evaporative Air Coolers
Particularly when you want to keep your employees cool and comfortable, you need a solution that can lower the temperature noticeably. Our evaporative air coolers, commonly known as swamp coolers, can be completely customized. You can count on various accessories and models to fit the cooling needs of your industrial space.
Portable Air Coolers
There are times when you need to cool various areas. Whether you're on the road or your employees move from space to space, we offer portable air coolers. Many of these models are mounted to wheels, allowing you to easily move the cooler to where you are working.
Residential Evaporative Coolers in Fort Worth TX
Homes of all sizes can benefit from residential evaporative coolers in Fort Worth. One of the top reasons is because there's no need to install ducts. This allows you to cool your space down quickly and without a significant upfront investment.
Residential Evaporative Coolers
You'll find that evaporative coolers are easy to maintain and are extremely energy efficient. If you're worried about spending a lot on your electric bill, this can be the best solution for you.
Plus, you'll be able to improve the air quality and enjoy greater comfort thanks to increasing the moisture in the air.
Evaporative Air Coolers
Evaporative air coolers come in a variety of sizes. However, the overall functionality doesn't change. Water passes over the cooling media in order to evaporate. The temperature drops and humidity is added into the air.
You can choose the unit that works best for your space and enjoy circulated fresh air without ductwork.
Portable Air Coolers
Portable air coolers are ideal when you don't want to invest in a large unit. Portable units have wheels, making them easy for you to take with you when you move or when you decide to change the room where you're spending the bulk of your time.
Commercial Evaporative Coolers in Fort Worth, TX
Commercial evaporative coolers can be a great way to keep the atmosphere comfortable for employees and customers alike. Your employees in Fort Worth, TX need to be comfortable. If the air is too dry or the temperatures are too hot, everyone will be complaining – and productivity will drop.
Commercial Evaporative Coolers
Commercial coolers are an economical solution that can be used in virtually every industry. At Premier Industries, we offer various sized blowers, motors ranging from 1.5 to 15 HP, and a 10-year rust-through warranty.
Do you need an industrial or residential evaporative cooler in Fort Worth, TX?
Choosing an eco-friendly way to cool your space in Fort Worth is important. Let our expertise guide you toward the best unit for your home or business. Contact us at Premier Industries to learn more about our evaporative coolers.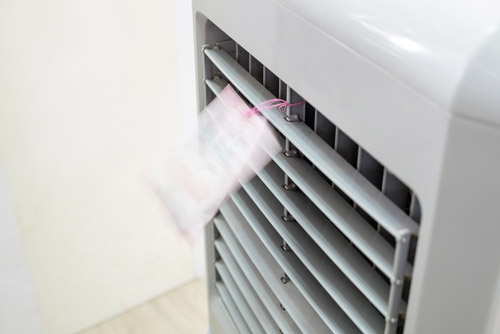 Evaporative Cooling FAQs
There are a few important questions that are commonly asked about evaporative cooling.
What Is the Best Way to Balance the Blower and Motor?
Balancing the blower and motor allows you to get a properly performing swamp cooler. You'll want to adjust the air velocity as necessary so long as it does not exceed 550 feet per minute.
How Can the Air Velocity be Controlled?
Easily! You will be able to control two aspects. You can control the speed of the blower as well as the size of the opening on the blower. This way, you get the velocity that works best for you.
How Do You Adjust the RPM?
The RPM of the blower is controlled with a motor pulley. It is adjustable so that you can control the diameter of the opening. As you do this, the ratio of the motor RPM to the blower RPM will change.
How do You Adjust the Water Flow?
Adjusting the water flow over the cooling media is quick and easy. You'll use either a valve or clamp on the riser pipe, which allows you to control the evaporation rate.